OOLER SLEEP SYSTEM Review: How a mattress pad with a cooling system can improve your sleep quality
Are you and your partner arguing because you have difference temperature preferences for sleeping? Many couples suffer through uncomfortable sleep conditions when there is a solution. Join the growing number of couples that are making the switch to sleep better.
What is the Chilisleep OOLERSleep System?
The OOLER is a smart sleep system that offers users temperature control of their mattress, giving you a better night's sleep. It allows for a range of temperatures from 55-110 degrees Fahrenheit or 13-43 degrees Celsius. The OOLER system functions through the use of a water tank control unit attached to a mattress pad that houses small tubing throughout that circulates water to adjust temperature.
The OOLER comes designed for either one or two individuals. It offers built-in smart controls that adjust to your sleep schedule, has a warm awake feature, and an alarm clock, all through a Bluetooth connection to an app on your phone. The OOLERis perfect for those that want to be warm in the middle of the night, those suffering from hot flashes or night sweats, or simple those that want to go to bed and get a night of deep sleep.
The benefits of using an OOLER system
One of the main reasons that people toss and turn is because your body temperature is not in its ideal conditions. Instead of purchasing a bulky heater and air conditioner, try the OOLER system that does the work of both and even more.
The mattress topper can adjust warming and cooling temperatures through a energy-efficient hydro system. It also offers users a more direct way to adjust the temperature to their body compared against using air conditioning or a heater.
One of the biggest benefits of the OOLER is that it offers couples control over the temperature of their side of the bed, so that each person can adjust it to their liking. This mattress is the perfect solution for couples who have opposing needs when it comes to how hot or cold their sleeping conditions are.
The ease of use that the OOLER app offers to adjust temperature is another beneficial feature. Being able to control the unit from a Bluetooth device without having to get out of bed which is why so many users give this product five star rating reviews.
Unboxing – What you get
When you first receive your OOLER, in the box you will find the main control unit, its power cord, the hydronic hose, and a mattress pad.
The control unit
The sturdy control unit is has a weight of about 4 kilograms on its own and is slender enough at 6 inches tall to slide under most beds. It is at the top of this unit where the distilled water is added that is used to circulate warm or cool water in the mattress topper.
It is a simple white device with only three buttons that turn the machine on or off and adjust the temperature settings. There is an LED display that shows the temperature, Bluetooth connection, and a notification when more water is needed.
The back of the device is where you plug the power cord another socket where the water hose gets attached. Through the tubing is how the water gets sent into the pad and from where water is sent back to the unit to continually control the temperature.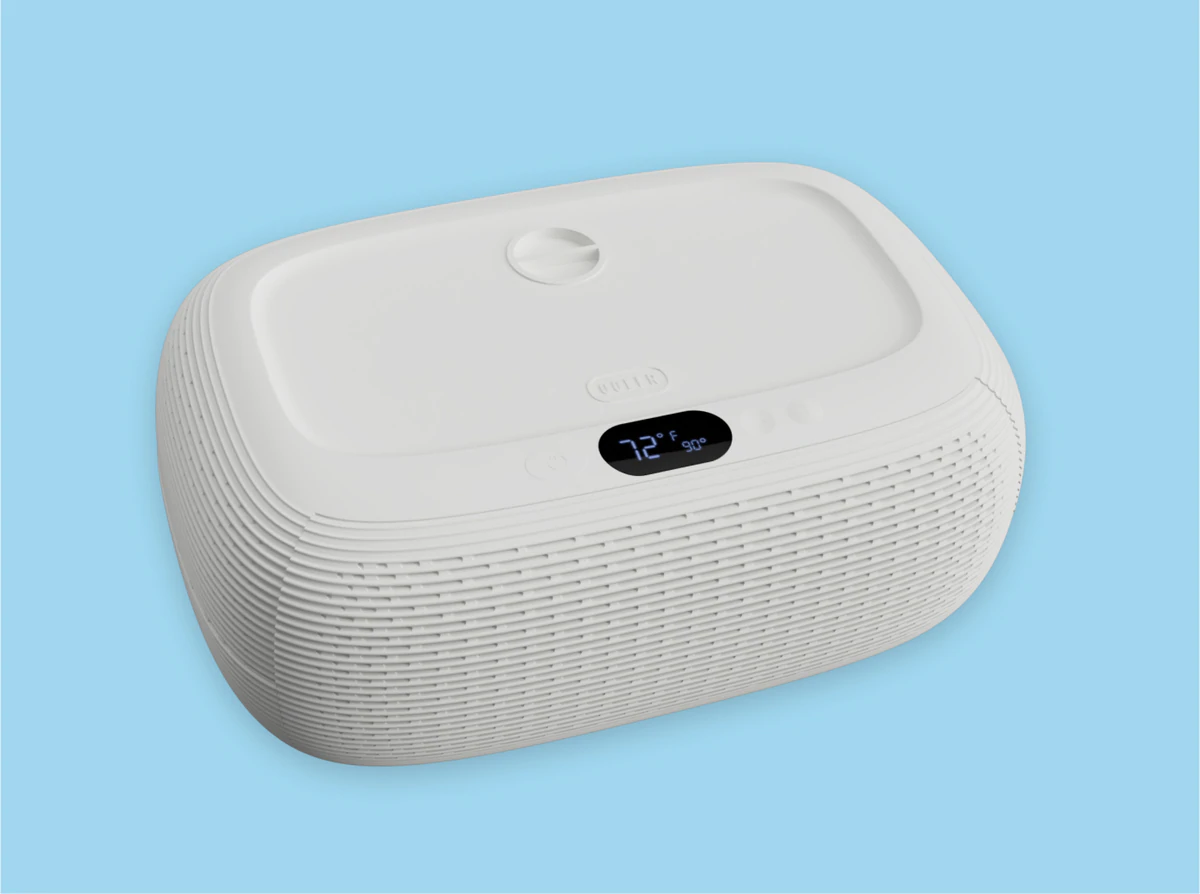 The mattress pad
The OOLER mattress pad has many small tubes inside of it to flow water through, but that does not take away from how comfortable it is. It is made from a stretchable soft material on the top side and the bottom is made from a polyester fabric that helps make it waterproof. It comes in a gentle grey tone with a simple lined pattern that is woven into it. On both ends of the pad are thick branded elastics to keep it in place on your bed. It is designed to be machine washable, simply remove the seven foot circulation hose that is attached to the pad beforehand.
The mattress topper is available in a variety of sizes, so you are sure to find the one that works best for your bed. There are the ME sizes for single sleepers which include half queen, half king, and half California king, and WE configurations for couples for queen, king, and California king beds. The WE variety offers individual heating control so that no matter how warm or cool you like sleeping, it will work for you. Since the WE offers unique control for each user, this version of the Chilisleep OOLER comes with 2 units that can go under the bed on either side.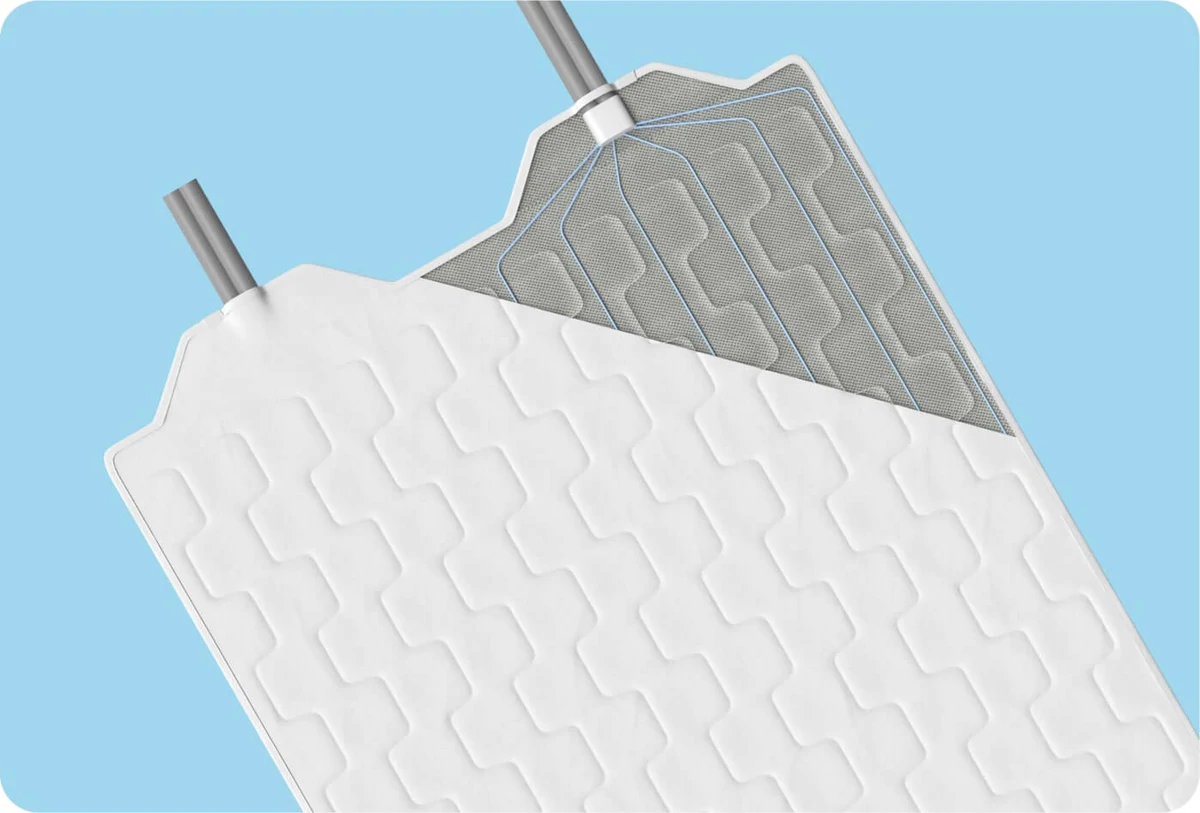 Setting it up
Once everything is out of the box, the next step is to set it up your OOLER sleep system. It only takes about half an hour to put it together. Plug in the power cord and the double-headed water hose, and secure the mattress topper to your mattress. After that, just add in water to the unit so that it is ready to go.
While the control device is relatively small it will require space in your room close to your bed. To get optimal use, it is recommended that there is nothing within 18 inches of the unit when it is on.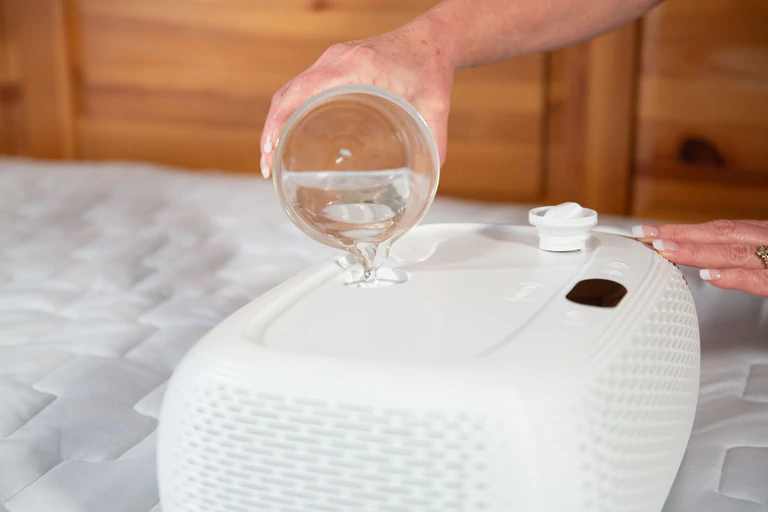 Using the app to adjust temperature and settings
Unlike the older Chilipad version of this sleep system that functioned with a remote, the modern OOLER unit is controlled through an app which is accessible for both iOS and Android users. You will need to be close to your bed for the Bluetooth to stay connected.
There are several settings that can be adjusted to your likings such as the warm awake feature, the range of cooling or heat desired, and scheduling. The warm awake can be scheduled to sync with your waking up time and will slowly heat up to around 120 degrees 30 minutes before you wake up. The idea of this feature is that it mimics the natural way that the sun will wake you from sleeping with its light.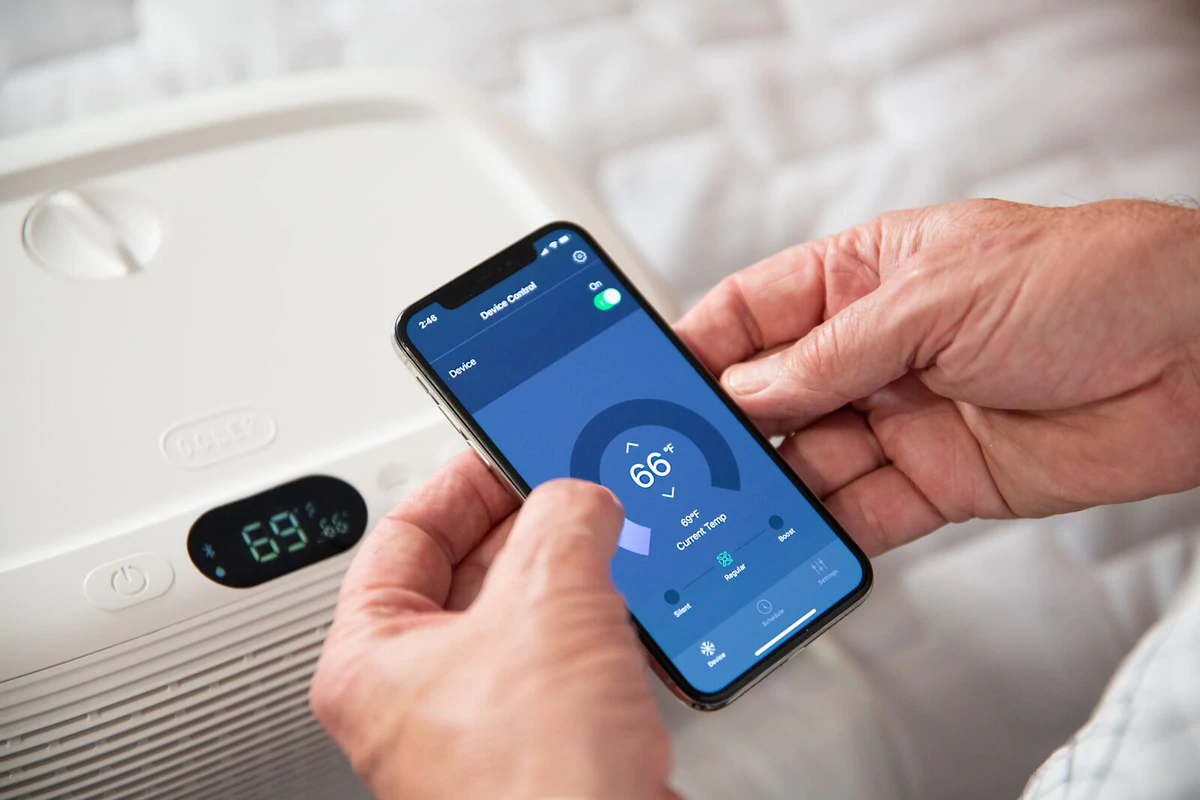 OOLER maintenance
For this OOLER review, we wanted to share our maintenance tips to keep your sleep system running perfectly. This innovation has a built-in UV light that keeps the tank clean without you having to do anything.
The mattress is designed to be cleaned in the washing machine, and is recommended to be ran on a cool and gentle setting.
OOLER VS. Chilipad
The Chilipad and the OOLER sleep system are quite similar in what they do, but they offer some differences. They are both made by ChiliSleep Technology which has been making 5 star quality systems that allow users to fall asleep to the relaxing white noise sound of the machine, while staying perfectly hot or cold.
The main differences between the two sleep systems are the sizes of main component, with the Chilipad being more cube shaped, whereas the OOLER is more squat and rectangular making it easier to fit under a bed.
One improvement that has been made is that the OOLER system does not require a cleaning solution to be used in the water tank like the Chilipad. Since it is self-cleaning, it is one less thing for you to worry about.
The final difference between these systems is how they are manipulated. With the older Chilipad working with a remote, the modern design uses an app to go into silent mode, set the wake up mode, or adjust the cooling.
How does the OOLER help you sleep throughout the night?
It helps you sleep by keeping your body cool or warm depending on what you like as you sleep. Instead of using a fan or heater that only changes the air, the mattress topper allows users to directly feel the cold or heat they want. Some of the reviews of this product also mention the noise level is soothing and helps them sleep better. Many reviews have reported that they get a deeper sleep, which is proven through any sleep tracking device.
What should I expect from the OOLER sleep system as of the first night of use?
Users could expect on their first night that they will have a perfect night's sleep by keeping them comfortable and cool. The heating range is designed to stay within a safe temperature, so no matter how you like to sleep, it will work for you. The regulating hydronic pad will ensure that you get a deep sleep, while cooling you throughout the night and gently warming you to wake up feeling refreshed and energized.
Is it worth it to buy an OOLER system?
Based off of our review of this sleep system, we would agree with other 5 star reviews to say that it is worth it. You can adjust the settings to exactly what works for you and can keep track of each night's sleep so that it can be catered to exactly what you need. The machine is not fully silent, so that is something to consider when purchasing. It takes up less space than a fan or heater which only changes the air, whereas this technology offers cooling and warmth directly to your body in a gentle way and is easily adjusted on an app.